Well, since everyone's talking about this already, I may as well come clean. I have a new pen name, Kris DeLake, and the first book is out in March. This is romance and space opera combined. I like to say that the spaceships go "whoosh!" as they travel through space, which is why I didn't want this under the Rusch name. And the stories are too violent (and too sexy) for the Grayson name. So here's the cover. You can preorder from Amazon or Barnes & Noble–or get it in B&N's brick-and-mortar stores when the book comes out. I just found out that B&N took a huge first order, which is great. I'm sure your local independent bookstore will have it as well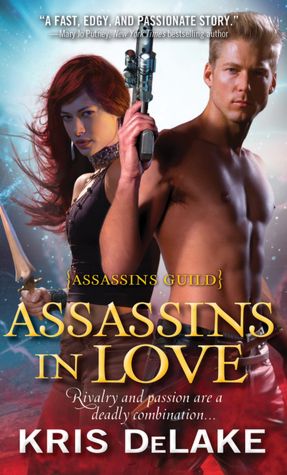 The reviews so far have been tremendous. Publisher's Weekly says:
DeLake (Kristine Kathryn Rusch's newest pseudonym) takes readers on a fast ride with this passionate futuristic tale, the first in a series. Idiosyncratic entrepreneur Rikki Bastogne and straitlaced Mikael "Misha" Yurinovich Orlinski are both assassins in a distant future where killing for cause is often legal. Responsible practitioners join the highly regulated Assassins Guild, which Misha venerates and Rikki despises. Misha hires Rikki to do a job in the hopes of recruiting the indie killer, and when they meet while Rikki is disposing of the target's body, their chemistry is immediate and explosive. At first Rikki is unaware of Misha's true identity, and when she learns it, she is shaken to the core: for years, Rikki has believed that Misha helped his mother kill Rikki's father in cold blood. How he proves her wrong—and how the two eventually learn to work together to combat a threat which could destroy them both—makes for a compelling, hot, and believable tale. 
And RT Book Reviews gave it 4.5 stars, with this review: 
Set in a universe where murder can be legal, this is an exciting adventure with a hot romance between two fascinating characters. Their profession and the fact that no apologies are made for it make for an intriguing story. One hopes there will be a second story featuring the heroine's friend.
And yes, there will be a second story featuring the heroine's friend. My editor at Sourcebooks and I are just trying to figure out the title. 
I will be doing a signing for this book, Boneyards, and Anniversary Day at North by Northwest Books in Lincoln City, Oregon, on March 3rd. So if you're in the neighborhood, drop on by. 
Send to Kindle